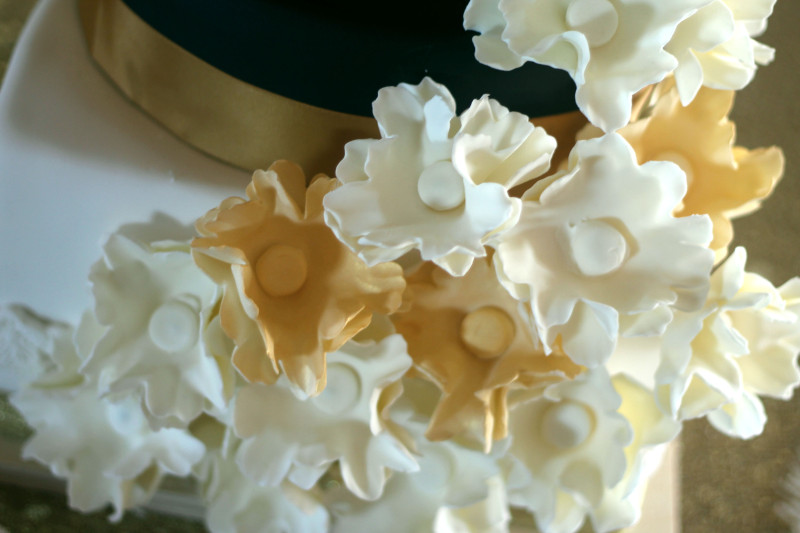 Fondant Flowers will make any cake AMAZING!
What you'll need: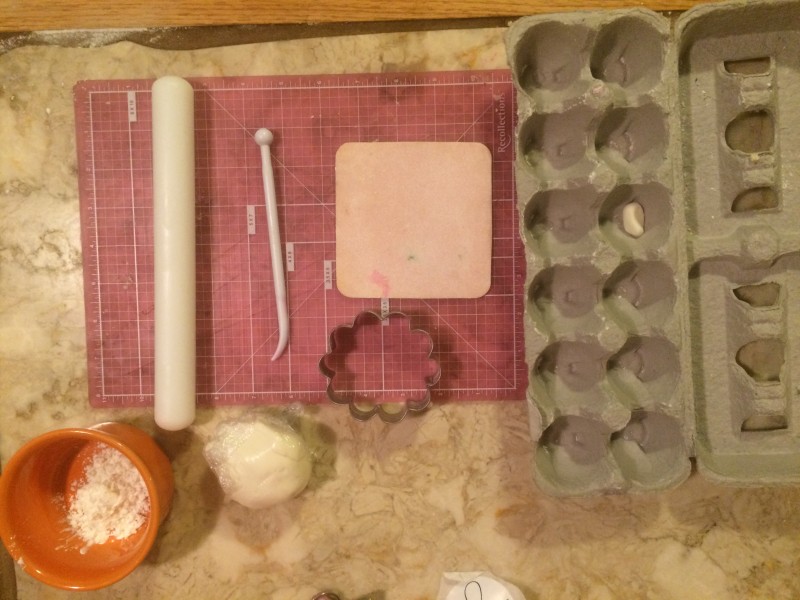 Everything can be found at your local craft store.
Cutting mat
Fondant Rolling Pin
Fondant Ball tool
Cornstarch
Fondant
Modeling Chocolate
Empty Egg Carton
Thinning foam
Flower Cutter
STEP ONE: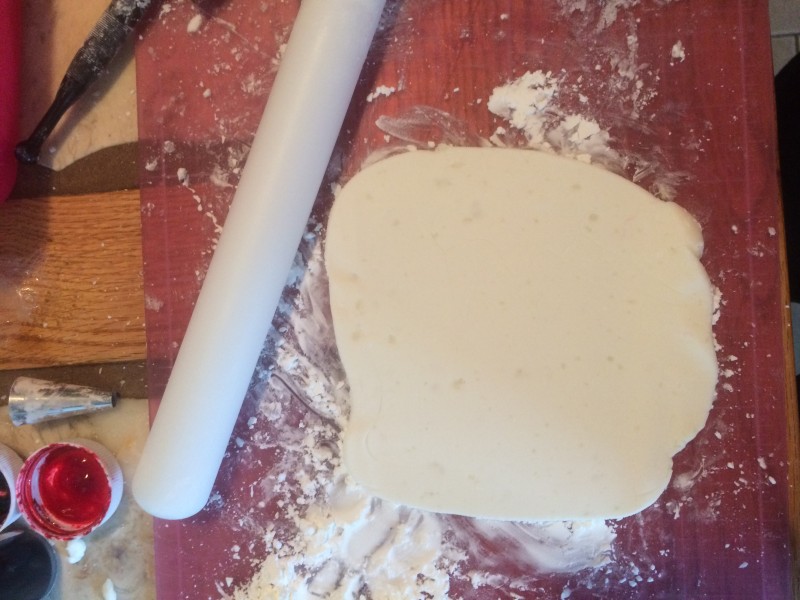 Mix equal parts fondant and modeling chocolate and knead until smooth.
Using cornstarch to prevent sticking roll out a small portion about 1/4″ inch thick.
STEP TWO: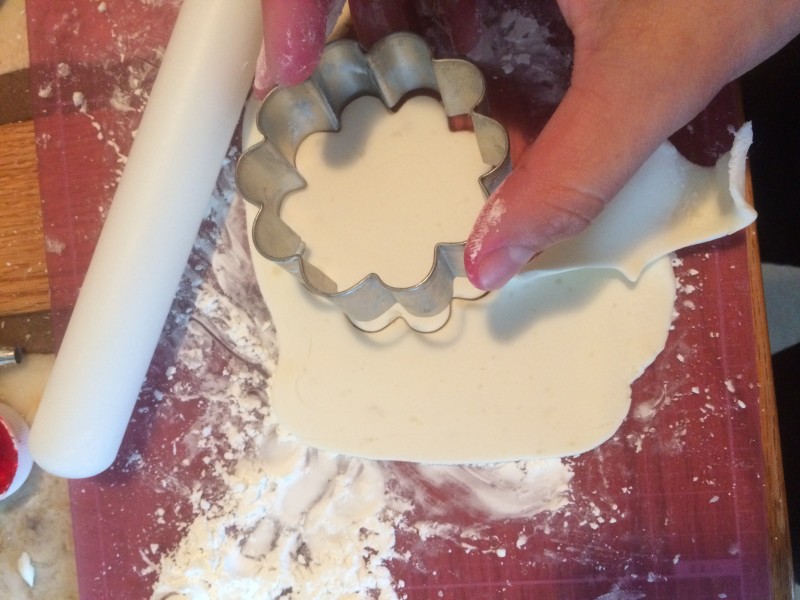 Using a flower shaped cutter cut out two flower shapes.  Fondant will start to dry out after a few minutes when exposed to air.  Cover any leftover fondant with plastic wrap until you are ready to use again.
STEP THREE: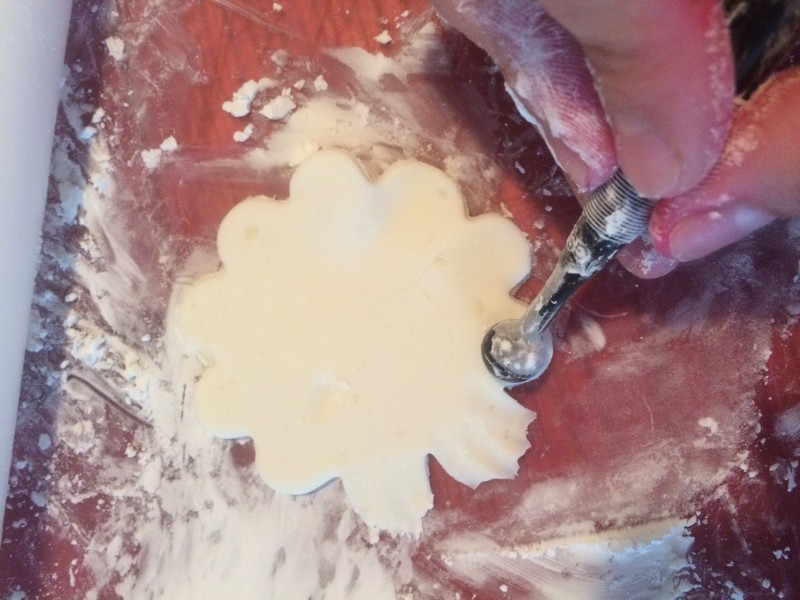 Using the Ball tool gently smooth and ruffle the edges to thin out the fondant and give a more realistic flower look.  Dip the ball tool in cornstarch to prevent any sticking.  The thinning mat can be placed under the flower to achieve a thin and ruffled edge.
STEP FOUR: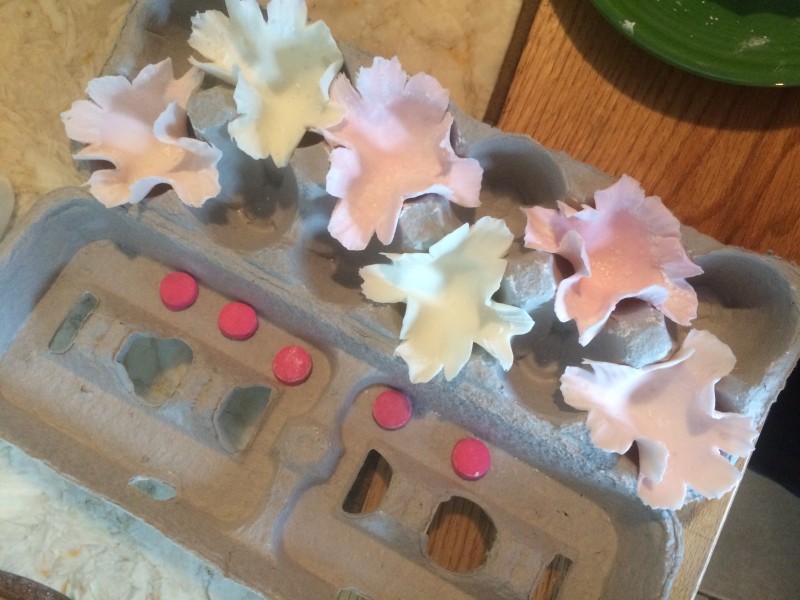 Gently lay the flowers into the empty egg carton, pushing down slightly to shape  the flowers. Using the extra fondant and any small round cutter cut out a few center circles for your finished flowers.  For the small centers I use the large opening on any decorating pastry bag tip.
Chill in the refrigerator for 5-10 minutes.
STEP FIVE:
Once chilled the flowers will hold their shape. Place a small amount of frosting between the two layers and gently press together forming the flower.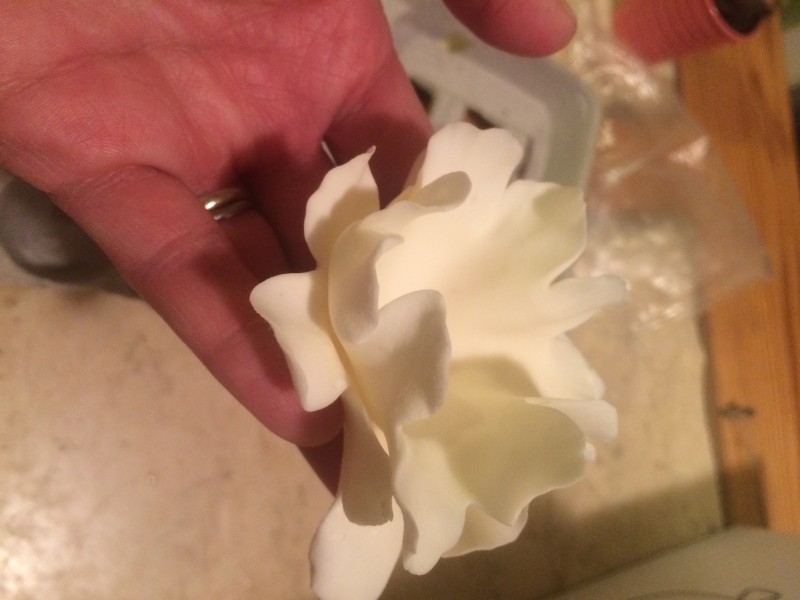 STEP SIX:
Add another dot of frosting into the center and attach the small center cutout to finish your flower. Chill again for 30 minutes before placing on your finished cake!
For more decorating tips go to the LaLa Custom Cake Blog Here!!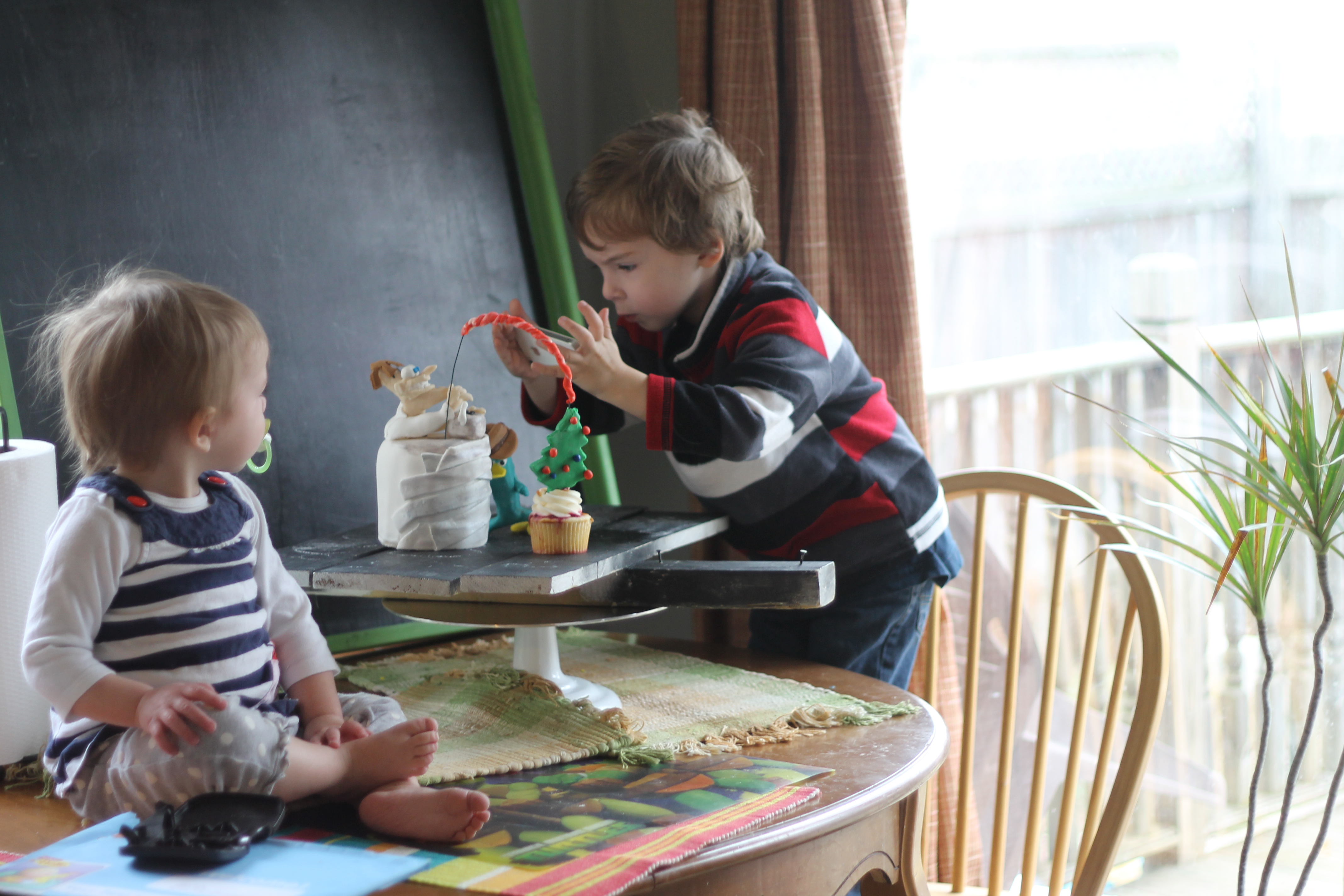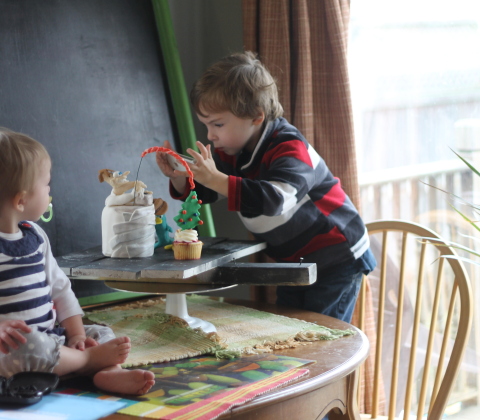 Let me start with a slight disclaimer! I'm not a photographer by any means, nor did my son actually take the cake pictures used here…but I'm also not ashamed if the only reason you're reading this was because my kids cuteness lured you in! 😉 Wait don't leave!….. Here's a few he did take..
Want more tips!?
While the rest of my tips and quips move to this site… browse
cakesbylala.blogspot.com
for lots of other posts to keep you perfecting your cake along with me!
I still shoot on automatic and don't know how to use photoshop past a few easy tweaks of curves and brightness/contrast… but I did learn A LOT of info about taking better cake pictures in the recent year or so from random tutorials , some that worked and a lot that didn't…. but all in all practice is practice and my photography is definitely improving…woohoo. So for the benefit of any and all persons who puts their time heart and soul into food only to learn that you need to be a good photog IN ADDITION to a food artist here's a few of my my DIY methodology for taking cake pictures. Hopefully you can learn something from it.. or at least learn what not to do.
This is a picture I recently took of one of my cakes. If you have no idea what is happening I'll just assume you don't watch cartoons as much as I do…err my three year old does. Perry the secret agent platypus is about to foil one of Dr. Doofensmirtz evil plans to take over the city.. in this case to take over Christmas. No worries Dr. Doofensmirtz always puts a handy on/off switch on his evil scheme.. it's almost like he doesn't truly want to be evil..hmmm.
I'm sure there are lots of cringe worthy techniques or lack of technique here in the finished product but with very little post editing I'm happy with this picture. My main goal with cake photography is to take distraction free, or close to it, pictures of pretty cakes. The cakes take hours and hours to make so it only makes sense to take equally nice pictures that will last for future clients to oohh and ahh over in the years to come. If I can clearly see the whole cake, with correct colors in a fun or interesting background/scene I'm happy.
I wanted to experiment with using a chalkboard as the background.. Here's some not so nice pics that I took along the way...I mean totally on purpose for this blog **blushing from embarrassment**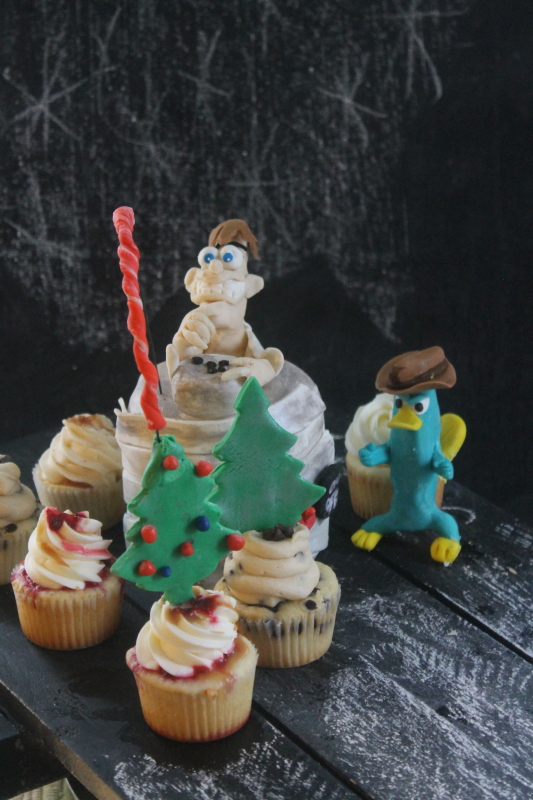 Cool haphazard messy chalkboard background... uuughh.. this is where I start losing faith that chalkboard backgrounds are cool at all...
But then there's setups like this.. perfect right?.. when done right (NOT my picture... I didn't really have to say that though did I)
(Click here to peruse an amazing cake shop in Ann Arbor that created this photo!)
After numerous attempts I decided the only very slightly chalky background looked best. The cake itself is resting on another chalkboard sign I made for my Farmer market sales in the summer. Its actually left over wooden planks from a gate my brother in-law made us, sanded and sprayed with chalkboard paint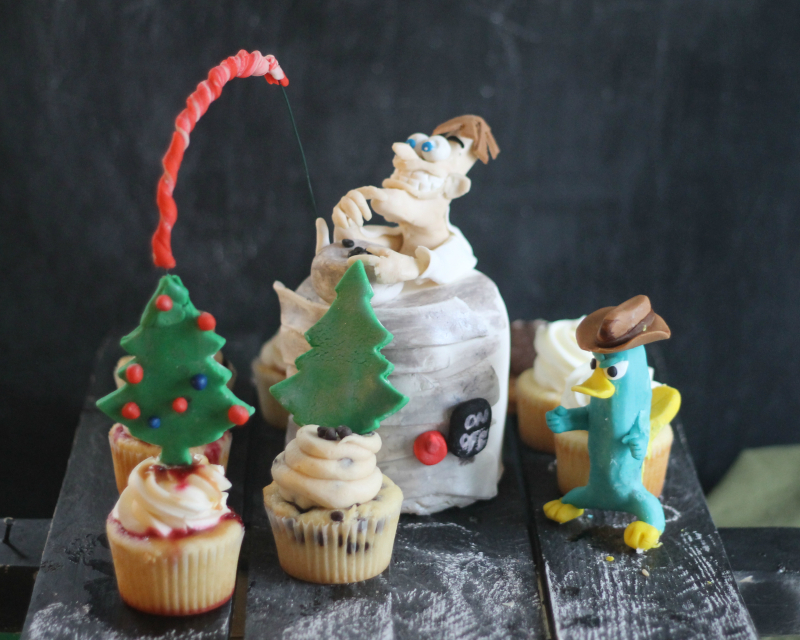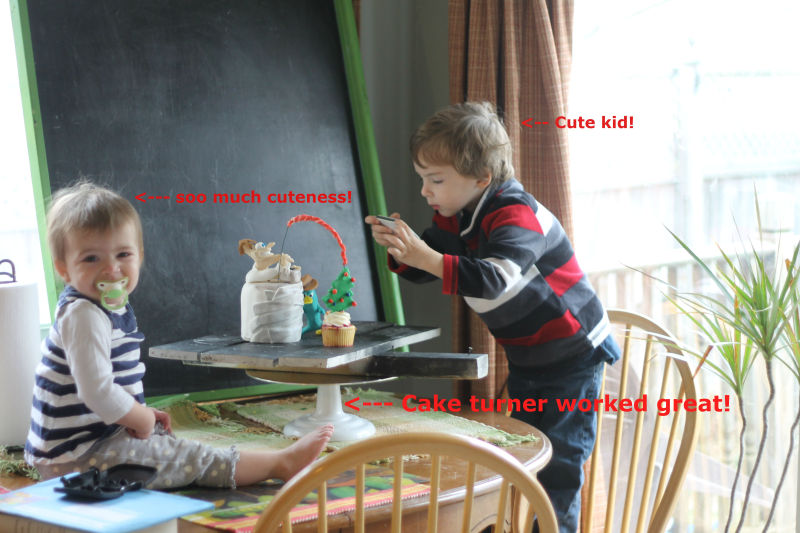 I rested it on top of my cake turner, which actually proved to be quite a useful technique since I could play with the light and switch cake positions quickly. I usually like natural light for my pictures. First because I don't like to do much post production.. second because I shoot mainly on automatic and natural light gives me the best color balance and feel.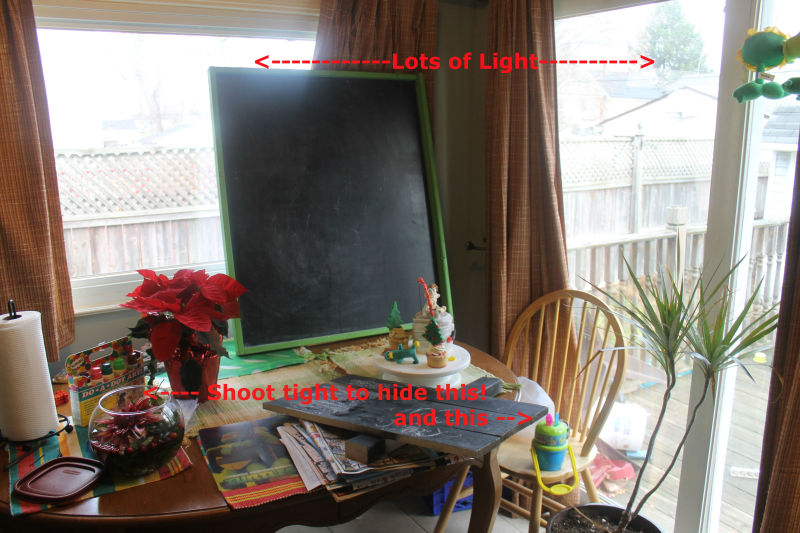 This is the table in my kitchen I mainly shoot photos from, glamorous I know right?! I find the best pics come from this area, since I have natural light coming from two sides and plenty of curtains to hide the light I don't want. I like to shoot whenever I can in early evening to cut down on any glare from direct sunlight...or if I'm lucky enough to get an overcast day, Mother Nature kindly diffuses the light for me. I haven't mastered the wide angle shot so I tend to shoot nice and tight within the camera frame. This helps alleviate some post production editing and hides any undesirable areas of your house.. clutter.. or the make shift background you're using! Pro Tip!! (and by pro I mean me) I found that for my food photography small is always better. If I can downsize the plate or platter I'm shooting it's easier to get a great looking picture. Example if I'm shooting on a dinner plate and it's not jiving I'll try positioning the food on a smaller side plate instead. Without a lot in the background the finished picture tends to look crisp and tight without a lot of negative plate space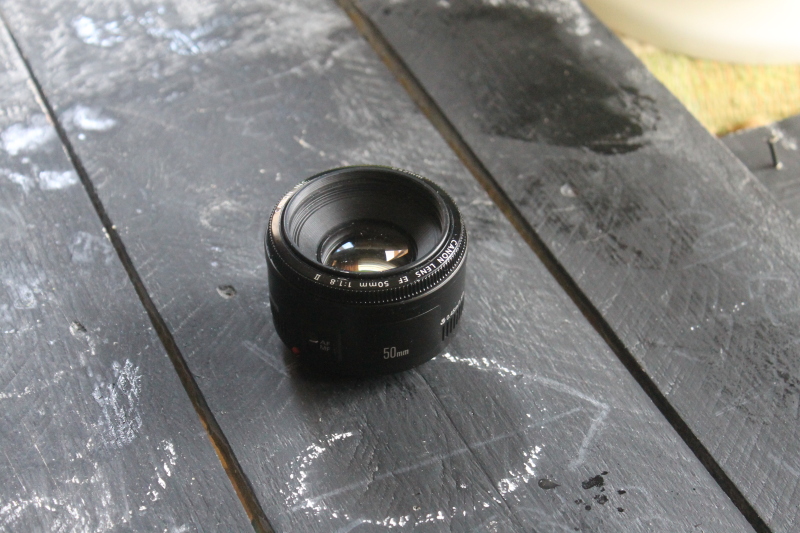 Ok one last and very important tip! Probably the most important tip/trick I have in my non-photographer arsonal is this little gem of a lens for my not so professional camera. I asked a photographer what the best 'cheap' camera was and was told numerous $500 and up just for the camera bodies without lens'... which all in all isn't a bad price for a good camera but I'm fairly cheap and broke so I pushed reason/advice aside and sprung for a Cannon Rebel 3 (around $300) (since buying the Rebel 3 I have been super pleased and excited with it... and my pictures) and this 50ml1:1.8 lens (about $150)! I have no idea what the numbers mean but the lens shoot amazing close, crisp detail shots of stationary things like..ta da... cakes! again woohoo!
Hope this gave you a few tips from a very non-professional photographer how to take better food pics! Now go eat cake!
Ps. I'm in the process of moving my blog right here to my website... check back soon for more how to, cake and fun with my crew posts!